Botox®
▷BOTOX for wrinkles on the forehead, frown lines, crow's feet, plus muscle slimming, excessive sweating, etc.

BOTOX relaxes and mitigates the wrinkles produced through excessive contraction of facial expression muscles.
BOTOX suppresses muscle hypertrophy and redundant gland activity and is, thus, effective in the creation of a tight and slim facial contour, the reduction of muscle volume, and the treatment of hyperhidrosis.
The special Microbotox (BOTOX Lift) technique, through which the skin becomes tighter and more beautiful, is available in our clinic.

Your doctor will advise as to where the injection should be administered after carefully examining the movement of your face. Location, size and use of the muscles that cause a furrowed brow differ from person to person. Botox does not require anesthesia although the doctor will numb the area with a cold pack or an anesthetic cream prior to treatment. Discomfort is minimal and extremely brief.
We use the Allergan's safe and effective BOTOX for all the botulinum toxin procedures.





BOTOX
Price
Wrinkle Treatment- Forehead -
¥22,000
Wrinkle Treatment- Frown line -
¥18,700
Wrinkle Treatment- Forehead + Frown line -
¥27,500
Wrinkle Treatment- Crow's feet -
¥22,000
Wrinkle Treatment- Bunny line -
¥11,000
Gummy Smile
¥16,500
Lifting the Angle of Mouth
¥11,000
Wrinkle Treatment- Around the mouth -
¥11,000
Upper lip wrinkles
¥11,000
Nose
This is effective for nasal alar reduction and is recommended for patients with developed nostril muscles.
¥22,000
Pollen
This is not an injection, but an infusion.
¥22,000
Jaw-Reduction Standard
¥38,500
Jaw-Reduction Special
¥55,000
Muscle Stiffness Standard
¥66,000
Muscle Stiffness Special
¥110,000
Calf-Reduction Standard
¥66,000
Calf-Reduction Special
¥110,000
Excessive Sweating
¥55,000
Excessive Sweating & Underarm Odor (YAG laser followed by Botox Injection)
¥198,000
Touch-up Light Within one month
¥3,300
Touch-up Standard Within one month
¥5,940
Touch-up Special Within one month
¥13,200
If you have any questions about the details of the treatment, please ask our doctor in person.
Touch-up: There is a charge of  ¥3,300 – ¥13,200 per body area for any additional Botox treatment occurring between one week to one month following initial treatment.
Microbotox
Microbotox is a special technique that enables the injection of multiple microdroplets of precisely diluted BOTOX. The Microbotox method, also known as BOTOX Lift, was pioneered in and has been developed since 2001 by the renowned Singaporean plastic surgeon Dr.Woffles Wu. Microbotox is injected into the dermis or interface between the dermis and the superficial layer of facial muscles.
Whereas traditional BOTOX prevents the entire muscle from contracting, Microbotox relaxes only the upper part of the muscle, thereby allowing natural facial expression. Making the skin compact, Microbotox not only modifies sweat and sebaceous gland activity to improve skin texture and sheen but also reduces inflammation, scars and pigmentations.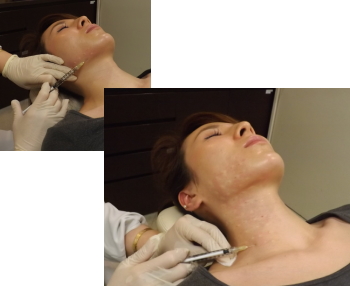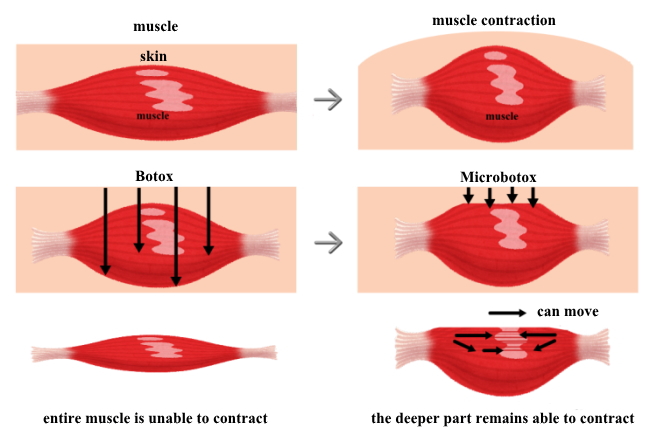 Microbotox First Treatment
Price
1 cc *1 syringe –
Required to cover the area of the size of 1 hand
¥27,500
1 cc x 2 *2 syringes –
Required to cover the area of the size of 2 hands
¥55,000
1 cc x 3 *3 syringes –
Required to cover the whole face or face line.
¥82,500
Microbotox Repeater
Price
1 cc *1 syringe –
Required to cover the area of the size of 1 hand
¥22,000
1 cc x 2 *2 syringes –
Required to cover the area of the size of 2 hands
¥43,780
1 cc x 3 *3 syringes –
Required to cover the whole face or face line.
¥65,340
ALLERGAN BEAUTY AWARD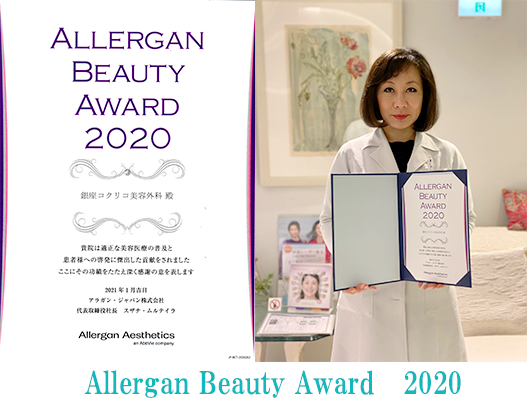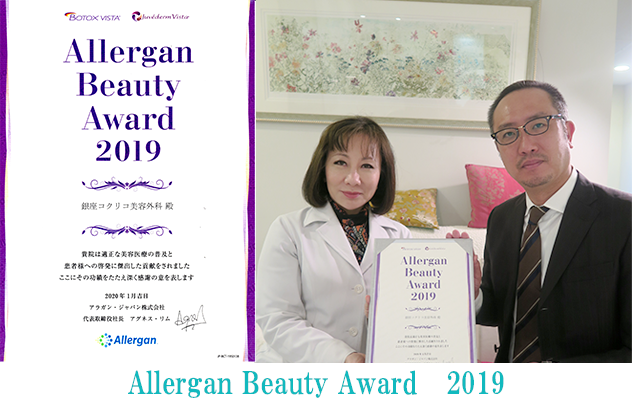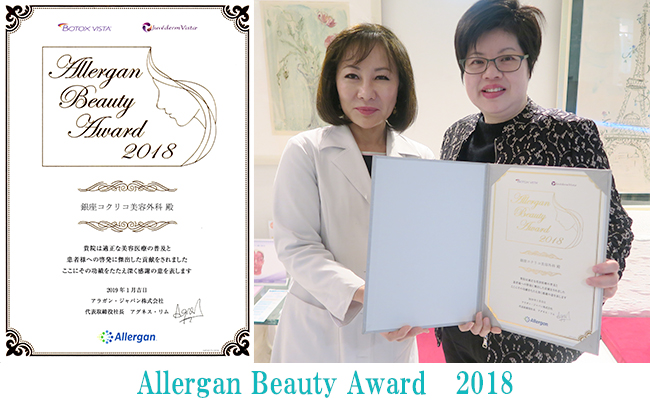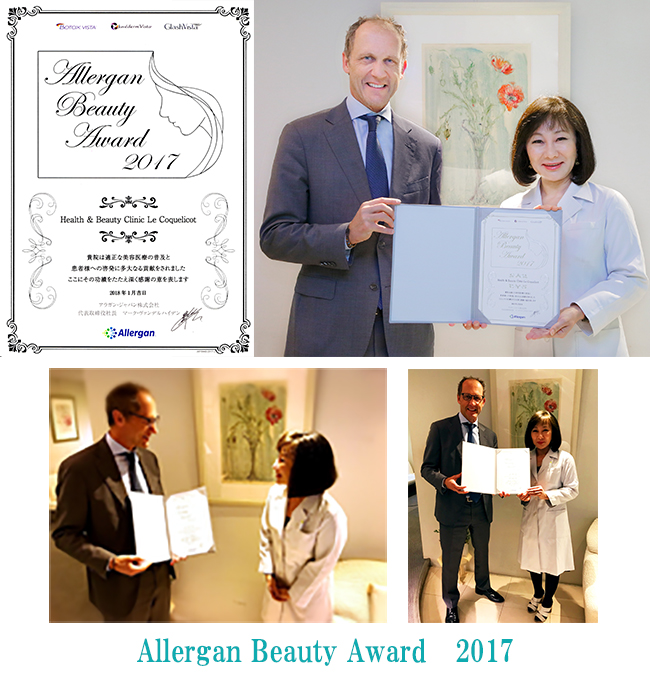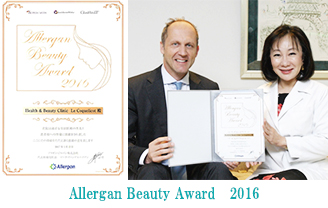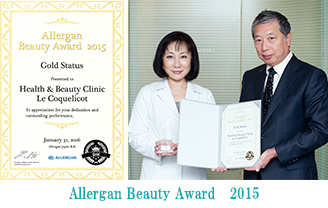 "Botox and Juvederm" workshop hosted by Allergan Japan