Hair Growth Treatment
Le Coquelicot Clinic has safe and secure treatments for improving hair growth and reducing hair thinning which involve no risks, side effects, little pain, or downtime. Focusing on growthfactor complex(cytokine) that is effective for everyone, a balanced cocktail of minerals and vitamins is injected into the scalp. The components are carefully selected depending on whether the patients are male or female.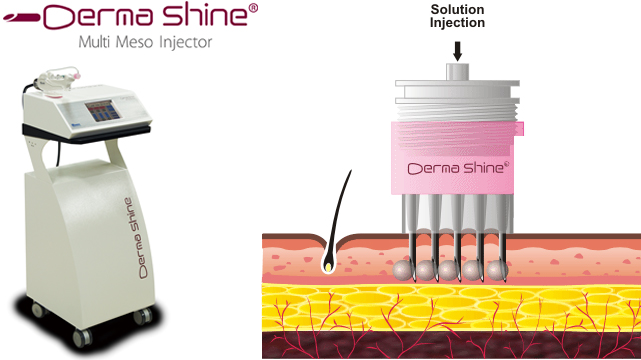 The 'Dermashine System' allows for 
・suction screw, multi needles to smoothly penetrate the skin; particularly effective for zones that are difficult to inject in the conventional manner. 
・equal amounts of aesthetic medicine to be uniformly distributed at the desired depth of 0-5mm.
・greater productivity with correspondingly less time and effort.
・Maximum patient satisfaction.
・Less recovery time and pain.
Premium Mesotherapy
1 session
3 session tickets
6 session tickets
1 syringe/
1 session
¥17,600
¥50,160
(1 session ¥16,720)
¥95,040
(1 session ¥15,840)
2 syringes/
1 session
¥33,000
¥94,050
(1 sesion ¥31,350)
¥178,200
(1 session ¥29,700)

Propecia (Oral medicine)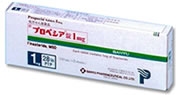 Propecia is an FDA-approved prescription drug that treats male pattern hair loss on the vertex (crown) and anterior mid scalp (middle front of the head). It is antagonistic to (blocks) Dihydrotestosterone which inhibits hair growth.
Propecia (Oral medicine)
28(1 mg) tablets per box
¥8,250
Viviscal Professional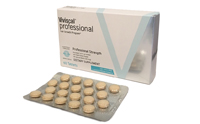 Viviscal Professional, containing the proprietary marine-origin ingredient known as AminoMar, is the dietary supplement for hair growth.
Long term research into the food and nutrition of the Inuit people of Scandinavia, identified and isolated AminoMar as the essential and key protein complex for 'rich hair and beautiful skin.' Viviscal Professional also includes procyandin B2, known as apple polyphenol, and Biotin (vitamin B7) which promote absorption and boost regeneration of amino acid.
Scalp hair has its own growth cycle comprising of the phases of anagen (the active period when cells in the roots divide rapidly; catagen (the transition stage); and telogen (the resting time). Viviscal Professional helps prolong the active anagen phase and so increases the individual number of healthy hairs produced, and decreases shedding and tapering. The beneficial effects of Viviscal Professional become apparent within approximately three to six months of continuous use.
| Viviscal Professional | |
| --- | --- |
| 60 tablets per box | ¥12,960 |
Dualgen-15 (Minoxidil 15%)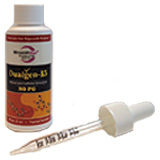 Dualgen – 15 ( Highly concentrated Minoxidil)
Dualgen -15 has the highest strength of FDA-approved hair growth stimulator (minoxidil), DHT blocker (5% azelaic acid), minoxidil enhancer (0.025% retinol), and hair follicle stimulator (0.001% caffine). It is Propylene Glycol free.
| Dualgen-15 NO PG | |
| --- | --- |
| 1 bottle (1 cc per dose, once a day for 60 days) | ¥9,900 |
Men's Rogaine (Minoxidil5%)

Rogaine is the only FDA-approved topical brand that regrows hair. In tests when used twice daily and over a period of 4 months, Rogaine Foam regrew hair in 85% of men. It is easily applied and dries quickly.
| Men's Rogaine | |
| --- | --- |
| 1 bottle 60g | ¥5,940 |
| 60 g×3 bottles/1 box | ¥17,050 |
Women's Rogaine(Minoxidil 2%)

Rogaine contains minoxidil, the only FDR-approved ingredient clinically proven to regrow hair. Minoxidil penetrates into the scalp to stimulate hair follicles and regrow hair. Rogaine also stops the progression of genetic hair loss.
| Women's Rogaine | |
| --- | --- |
| 1 bottle 30 ml | ¥3,300 |
| 60 ml×3 sets | ¥17,600 |
Pantogar

Pantogar is a highly effective treatment for women's diffuse hair loss and hair structure lesions. Through cellular metabolism and with its special combination of amino acids, proteins and B group vitamins, Pantogar provides hair with the nutrients necessary for growth and development of a firm and elastic structure.
Hair Growth HG
HG Hair Growth HG Shampoo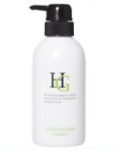 HG Shampoo reduces the overproduction of oil and removes waste materials from pores. The oil control system normalizes the scalp and boosts the penetration of ingredients.
HG Hair Growth Conditioner (Hair strengthening volume care)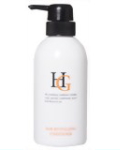 HG Conditioner prevents the loss of hair due to tangles and increases the volume of soft, fine hair. Not containing softener components, this conditioner prevents hair from becoming overly softened.
| Hair Growth HG | |
| --- | --- |
| Shampoo | ¥6,380 |
| Conditioner | ¥6,380 |