Electroporation
NON-NEEDLE MESOTHERAPY – CARESYS 
Electroporation is a medical treatment whereby active ingredients and medicines are injected into the cuticles of the skin through temporary micro size holes. The ingredients of growth promoting factors and vitamins are effective for facial pores and wrinkles, skin rejuvenation and whitening.
Compared to the 10 – 15% ultrasonic and ion penetration rate of the past, electroporation has a far higher rate of 80 – 90%.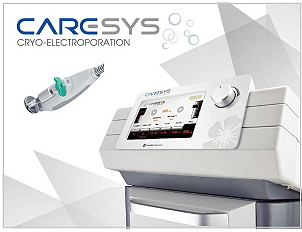 Effects
◆ Reduces brown spots, wrinkles, and saggy skin.  
◆ Cleans pores and acne marks.
◆ Enriched and moisturized skin 
◆ Aids slimming
◆ Promotes hair growth

*The type of medicine differs for each patient and purpose.
Features
◆ Pain-free treatment due to needleless procedure.
◆ Helps ensure ingredients penetrate deep under the skin.
Suitable Areas for Electroporation treatment:
Face, Neck, Chest, Back, Abdomen, Arms, Legs, etc.
Electroporation (Non-Needle Mesotherapy)
| | Price |
| --- | --- |
| 1 session | ¥13,200 |
| 3 session tickets | ¥33,000 (1 session ¥11,000) |
| 6 session tickets | ¥59,400 (1 session ¥9,900) |