Removal of Brown Spots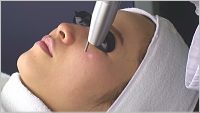 At Ginza Coquelicot Clinic, we employ the Q-switch YAG Medlite procedure for the removal of brown spots, birthmarks and tattoos. The Medlite laser procedure offers patients the safest and the least invasive way to effectively minimize the appearance of pigmentation in any skin type.
Removal of Brown Spots
| | Price |
| --- | --- |
| Diameter 0.5 cm | ¥5,400 |
| Diameter 1.0 cm | ¥10,800 |
| Diameter 1.5 cm | ¥16,200 |
| Diameter 2.0 cm | ¥21,600 |
Care Products
| | Price |
| --- | --- |
| Tape (S) | ¥350 |
| Tape (L) | ¥650 |
| Spots Cover Concealer SPF40 PA+++ 15 g | ¥2,160 |
| Whitening cream hydroquinone 10 g | ¥3,240 |
| Whitening cream hydroquinone stick | ¥5,400 |
Process
Anesthetic cream is applied on the area to be treated.
The doctor irradiates the area with the laser.
The color of the treated area becomes white in the beginning, then changes to dark red.  The dark red area turns into a scab on the same day or the next day after the treatment.
The color of the scab darkens a few days after the treatment.
The scab comes off by itself in about 10 days. The color of the skin will be pink after the scab has gone. (We ask patients to make another appointment during this phase).
After 14 days, the treated area merges into the other area of the skin and becomes invisible.  You will need to continue using sun screen during the daytime, and some patients may need to use prescribed whitening cream at night.
Laser Toning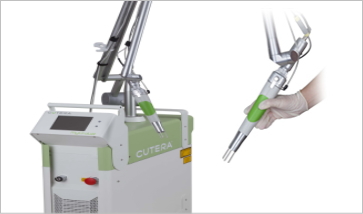 ▷Treating melasma and other refractory brown spots
Laser Toning is a special skin brightening technique that suppresses the activation and secretion of melanin without harming pigment cells. A series of treatment sessions will produce a gradual but definite decrease in brown spots and blemishes. Laser Toning also effectively reduces open pores and dark circles under the eyes to provide an evenly toned and clear skin. It is available not only for melasma but also for sun-damage spots and discolorations, and post-inflammatory pigmentations (PIH).

Laser Toning
1 session
3 session tickets
6 session tickets
Light
Only for spots, melasma
¥10,800
-
-
Standard
Full face
¥21,600
¥48,600
(1 session ¥16,200)
¥77,760
(1 session ¥12,960)
Special
Full face – neck, décolleté
¥43,200
¥97,200
(1 session ¥32,400)
¥162,000
(1 session ¥27,000)


Carbon Laser Skin Peel
By applying the special carbon (charcoal) to the skin, the pores rise up to the surface. After a few minutes, Medlite laser will be used to exfoliate the dead skin cells and reduce pore size. This treatment is suitable for everyone, especially for those who have large pores, oily skin or layers of dead skin cells. We also offer skin rejuvenation using the same laser to produce collagen in epidermis. You can return to normal activities immediately after the treatment.
Carbon Laser Skin Peel
| | Price |
| --- | --- |
| One Part of the Face | ¥28,080 |