At Ginza Coquelicot Clinic, we employ laser therapy for pore, acne, and acne scar treatment. It is non-invasive and does not require local anesthetic or antibiotics. By maintaining a good skin care routine and having laser therapy treatment regularly, you can have clear and smooth skin. Our very experienced doctor will help you achieve the best results.
Laser Genesis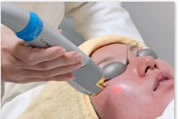 This treatment is highly effective for those suffering from acne and can be undertaken with no downtime. By gently heating the dermis, the Laser Genesis dries out stubborn acne and acne-causing bacteria; works to reduce pore size; and improves skin texture by stimulating collagen production and cell renewal. It is particularly effective in combination with chemical peels.
Chemical Peel
Lactic Acid used in Chemical Peeling is recognized as one of the most effective acids for gently dissolving dead surface cells and promoting cell renewal. Chemical Peeling also stimulates collagen reproduction and improves acne, skin tone and texture.
Chemical Peel *40 minutes
| | 1 session | 3 session tickets | 6 session tickets |
| --- | --- | --- | --- |
| Chemical Peel+Multi-Vitamin Mask | ¥9,720 | ¥27,540 | ¥54,000 |
Combination Treatment of Chemical Peel and Laser Genesis
1 session
3 session tickets
6 session tickets
Chemical Peel+Laser Genesis+Multi-Vitamin Mask
¥21,600
¥59,400
(1 session ¥19,800)
¥108,000
(1 session ¥18,000)

Massage Peel (Skin-Firming Formula)
Massage Peel
Price
Standard
Face, Back of the hands
¥12,960
Special
Face – neck, Neck - décolleté
¥18,360
Super
Back, Face - décolleté + Back of the hands
¥32,400